We are a non-profit organization with a team of experts that strives to modernize Czech education. We have developed and tested new programs for teachers and school principals that significantly improve children's learning in schools. With our know-how, we strive to enrich and transform the public education system to fulfill our vision: All children learn fully, with joy and equal opportunities, and leave school ready for the challenges and opportunities of the 21st century.
Whatever our schools are like,
that's what our society will be like.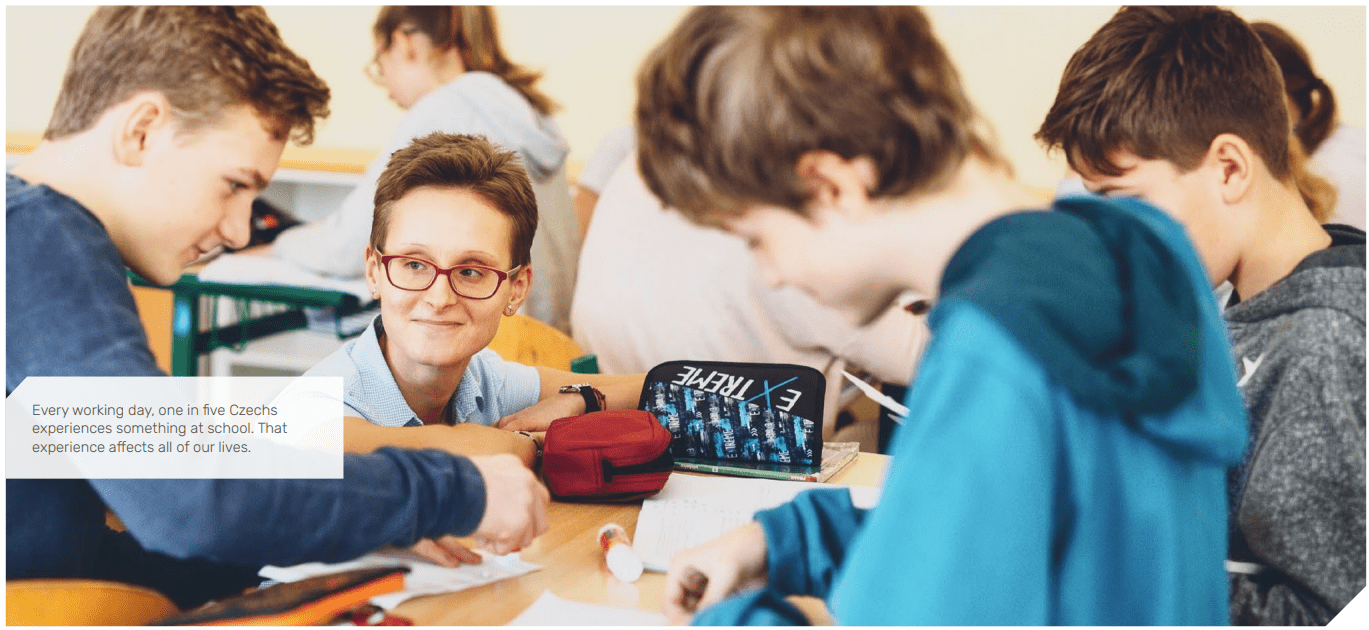 The Czech school system, however, does not look after its teachers and headteachers, and that is worrying for all of us.
16 %
Only one in six teachers feels that society appreciates their work.
18 %
Only one in five headteachers actively collaborates with another headteacher. That proportion is the lowest across the EU.
6 000
Right now, the system has at least six thousand teachers too few.
50 %
Every second teacher is at direct risk of burnout syndrome.
39 %
2 in 5 advertised headteacher vacancies receive only one applicant (data from 2017/18).
1
The only obligatory training for headteachers fails to cover the area of improving children's learning and only touches lightly upon people management.
13
In the past 15 years the Minister of Education has changed 13x and schools lack any coherent change-implementation systems.
10 %
The proportion of teaching practice in teaching qualification courses is minimal and this fails to prepare teachers for work in modern schools (the best training schemes abroad involve 20-40 % teaching practice).
By 2030 we want to have a substantial positive impact on the work of 20 000 teachers and 1 000 headteachers.
If we manage to influence 20 % of the system, that critical mass would ensure that the innovation spread further spontaneously. That means we need to influence 20 000 teachers and 1 000 headteachers.

High-quality education is the main precondition for future economic and social growth in any country. Teaching quality plays a key role in that. If the Czech Republic started investing in teaching quality, it could surpass the economic level of western Europe within two generations, For Czech citizens that would mean substantially higher real pay, higher quality public services, and a substantially higher quality of life. A study by the IDEA think-tank at the Czech Academy of Sciences' Economics Institute has shown that the cumulative contribution of improved teacher quality to GDP would reach a monumental 54 billion CZK by the year 2100.
Teachers and headteachers hold the keys to change.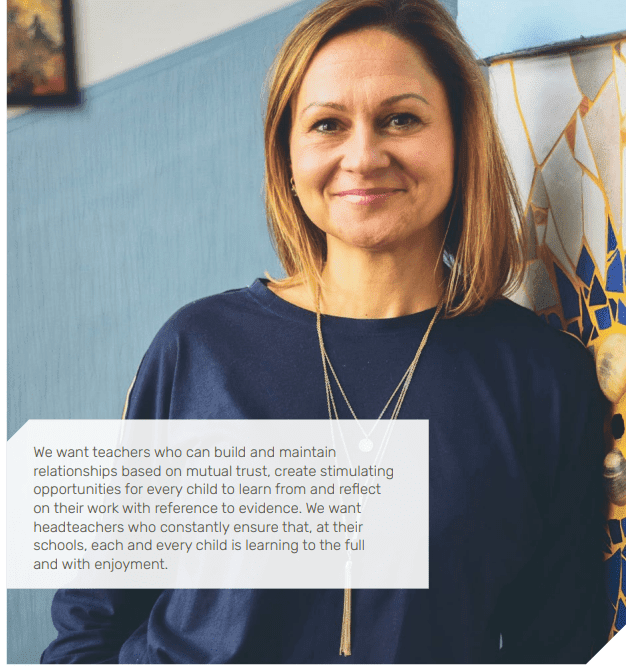 Teachers are role models.
Over the course of their careers, a teacher will influence hundreds or thousands of children and young people while a headteacher will influence tens or hundreds of teachers.
Teachers establish the classroom environment, assess learning outcomes and motivate children to learn and to work together.
Headteachers establish the school's culture and vision and create the conditions necessary for teachers' growth.
Global studies have shown that where educational improvement is concerned, changes in legislation, technology or curricula alone have far less of an impact than direct work with teachers and headteachers.
They told us "that won't work". For years, we have been demonstrating that change is possible. And we are not going to give up.

We have a strong professional organization
From the original initiative within the Depositum Bonum Foundation, we have built an organization with a strong staff and expert background. We were founded in 2016 and today we have around 40 employees, supported by many donors and education experts. In the field of Czech education, we are one of the fastest growing and most agile organizations.

We have created and validated a unique program for future teachers
In collaboration with experts and experienced teachers, we created Teach Live course as a model of good practice in teacher training. We build up a professional community of at least 200 Teach Live graduates, students and accompanying teachers.

We work on pedagogical leadership development of school principals
We have created the Lead Live program, which focuses on the ability of principals to support teachers in improving their teaching (pedagogical leadership).

The benefits of our programs are data driven
We carefully measure and evaluate the impacts of both of our programs. Therefore, we are not afraid to say that we have created very functional educational models. The results of the graduates are well above the Czech standard and in some respects comparable to the world's best education systems.
Teach Live
unique vocational training
What is Teach Live?
An intensive, two-year, 750-hour training course for university graduates who want to gain a teaching qualification.
Accredited as Supplementary Teacher Training (DPS, known as the "pedagogical minimum").
Focused on developing the teacher's personality.
What makes the course exceptional?
It was created by leading experts and experienced teachers on the basis of the best Czech and international know-how in teacher training – UCL Institute of Education, Teach First, Boston Teacher Residency, the University of Pardubice's "clinical year", and more.
It builds on long-term teaching practice placements in schools, which gives the students the best preparation possible for the real challenges of the teaching profession (these placements make up more than 50 % of the course; other teacher training courses in the Czech Republic include only 5-10 % teaching practice).
It is building a community of enthusiasts, which is mutually supportive and is spreading this modern approach to teaching, which responds to today's challenges with its emphasis on critical thinking, collaboration, independence and self-knowledge.
Lead Live
leadership for school leaders
What is Lead Live?
An intensive, two-year, 350-hour training course for pairs of school leadership staff (headteacher + deputy) from elementary and secondary schools.
Accredited as a Continuing Professional Development (DVPP).
Focused on developing educational leadership skills.
What makes the course exceptional?
The course design is inspired by international know-how and was consulted with the NYC Leadership Academy, NYC Dept. of Education, Bank Street College of Education and the Wallace Foundation.
Pairs of school leadership staff participate in the course together, which increases the impact it has on children's learning and ensures future leaders are well-prepared.
The course provides and intensive combination of educational sessions, excursions to inspiring schools and businesses, mentoring and group support, aimed at building a long-lasting professional community of school leaders.
It is built on a strong team of 12 experienced headteachers and experts in educational leadership.