Has Teach Live caught your eye? We're pleased!
Teach Live is designing and running a training course, building a network of experts and people interested in what is happening in education, and collaborating with schools and a broad selection of other institutions and organizations. How can you be involved?
Do you want to be up close, in the picture, and support us?
We're pleased to hear it, and thank you! You might for example begin by following us and sharing our page on Facebook, signing up to receive our newsletter, attending and spreading word about our events. Tell people about us and tell us about other interesting projects and people. To help you spread the word about Teach Live you can also download our poster and logo and use the hashtag #ucitelnazivo. Thank you in advance for your support.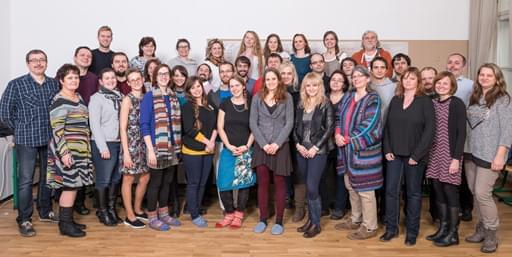 Do you train teachers and want to collaborate with us?
We like working together, learning and sharing. So we welcome connections with other institutions and projects in education and other sectors, and the opportunity to mutually support one another. Let's meet and discuss how we can work together to benefit ourselves and others. Get in touch.
Would you like to donate to the project?
The cost of developing and running Teach Live is currently over CZK 100 000 per student per year and is subsidised through private funds. We very much welcome financial donations. If you are interested in supporting us financially please contact us. Thank you.
Would you like to be involved in another way?
We are open to your suggestions! If you have an idea about how you'd like to be part of Teach Live or offer us support, write to us. We look forward to hearing your ideas and working with you.